I love recording answers to prayer, and yesterday stunned me with God's kindness. I wrote in my journal that morning a simple request for my daughter to truly enjoy her senior prom and that God would somehow make the night more fun than she could imagine. I closed the journal and went about the day.
For brunch, we joined our next door neighbors. The amazing mother brought her visiting family and us downstairs to show us her basement warehouse for the new business she's just launched. She said to my daughter, "I'd like to give you a gift for graduation for later in the summer."
The gift?
Well, this woman, Claudia, owns Happy Valley Slumber—a new local, mom-owned business that sets up incredible sleepover parties around brilliant themes for both children and adults. She wanted to give Kate a party sometime in the future. My daughter said she had wished she had thought of this earlier since that very evening, her friends were coming to our house for the after-prom sleepover. In her mind, the girls would just find places to sleep on couches. Boring. Nothing fancy. Stressful.
Claudia said, "Well, my family is in town to help me, so we're giving you your sleepover party tonight!" Within just a few hours, Claudia tumbled into my house and set up the greatest, coziest, prettiest after-prom party. The girls returned from prom to step into a surprise of gifts and personalized sleeping areas. They all had the best time at prom and the best time at our after-party. And Claudia returned to pack everything up. I just love this business idea. I just love how special it makes guests feel.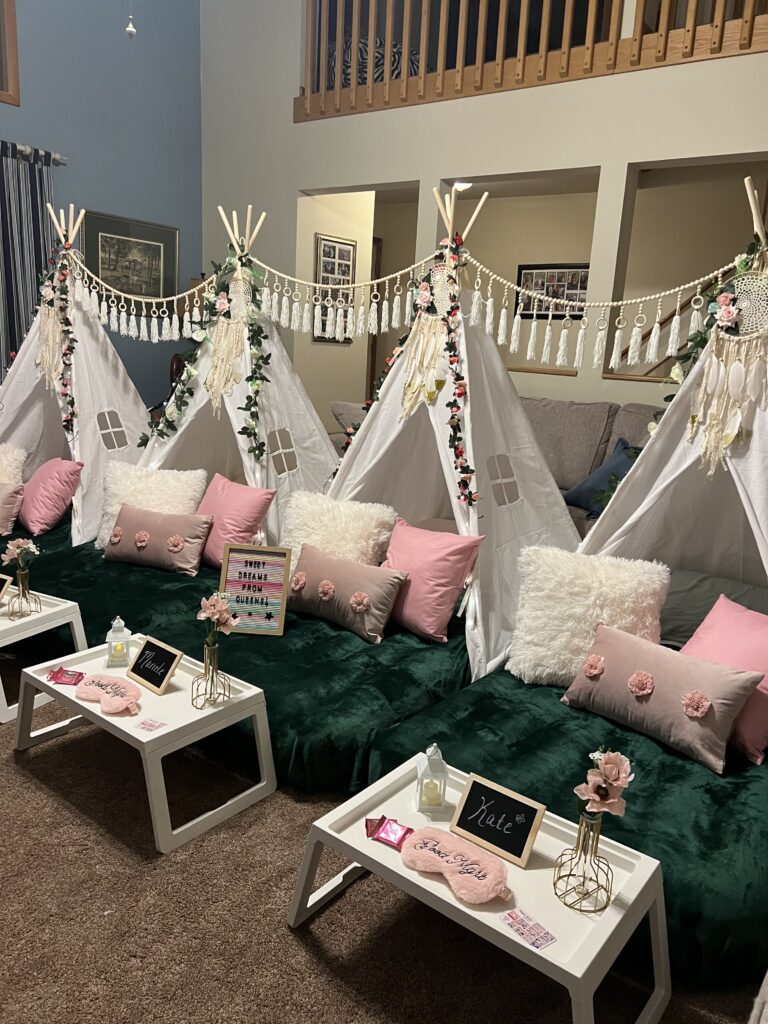 Later, we talked about how God always does "immeasurably more than we can ask or imagine." The party gift felt so undeserved and so much fun. I recorded it in my prayer journal and thanked God for a friend like Claudia, her business, and her love for my daughter.
I also loved having a memory like this. The girls who came have been friends since the 3rd grade. I made crepes in the morning like I used to when they'd come for sleepover parties when they were little. I think the nostalgia for things like this made the night even more special.