I take my hurting neighbor to the compost pile and point to what became of the garbage of our lives. I talk about pain and loss and heartache and how Jesus always made something grow from it—some beautiful and unexpected thing that I neither controlled or helped along or even knew to want at all.
I pull back the leaves as big as garbage lids and show her what's happened since this time last year. I show her the pumpkins.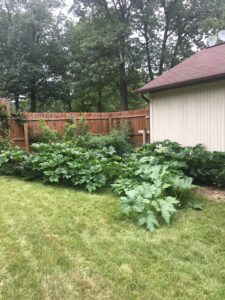 I think about the secret year of growth from within that compost pile. I think of how we absentmindedly tossed the rotting pumpkin into the compost. The snow came. The spring came. The late summer came. And now, once again, a harvest of some incredible gift.
I think about the times in scripture I've read the phrase once again. I think of all the hurting, devastated families in Houston. I think of what it means to rebuild a life. I think of Isaiah 14, Ezekiel 36, and Zechariah 8. I think of God responding to Israel's cries and His promise to once again restore their lives and land. God restores everything, at some time, in His own way.
I love how, in Psalm 73 we read, "Though you have made me see troubles, many and bitter, you will restore my life again; from the depths of the earth you will again bring me up." Three times in Psalm 80, we read that beautiful verb: restore! The people pray, "Restore us, Lord God Almighty; make your face shine on us, that we may be saved." I love how, too, in Lamentations 5:21, we read the cry, "Restore us to yourself, O Lord!"
I especially remember this verse when in the midst of a difficult situation. In 1 Peter 5:10, we read, "And the God of all grace, who called you to his eternal glory in Christ, after you have suffered a little while, will himself restore you and make you strong, firm and steadfast."
I view the pumpkins each new morning and those roots coming out of the scraps in the compost, and I remember the secret ministry of God in our lives. And while we wait for physical restoration–that may happen now, in a year, or never in this life–we know that God restores us most of all to Himself.